About this item
1. This aquarium filter is suitable for fish tanks up to 75 gallons, and SunSun parts can be applied.
Flow: 264 GPH (1000 L/H);
Pump Power: 18W hose;
Dimensions: 3/4 inch;
Maximum height: 4.6 feet
2. This aquarium filter It is equipped with 3 media trays, capable of handling filter media; also equipped with an adjustable spray bar, you can also adjust the output flow of the filter. Make your aquarium environment clearer.
3. This aquarium filter has a self-priming pump, no need for manual siphoning; the single valve disconnects and starts the pump, which greatly simplifies our daily maintenance time.
4. Tank filters for aquariums use high water pressure from a properly powered pump to force water through a dense filter medium. The pump can draw water from the gravel filter and send it to the tank for double filtration.
5. The three flexible media trays allow you to add other filtration media such as SunSun's activated carbons, ceramic rings or bio-balls to achieve excellent mechanical, chemical, and biological filtration.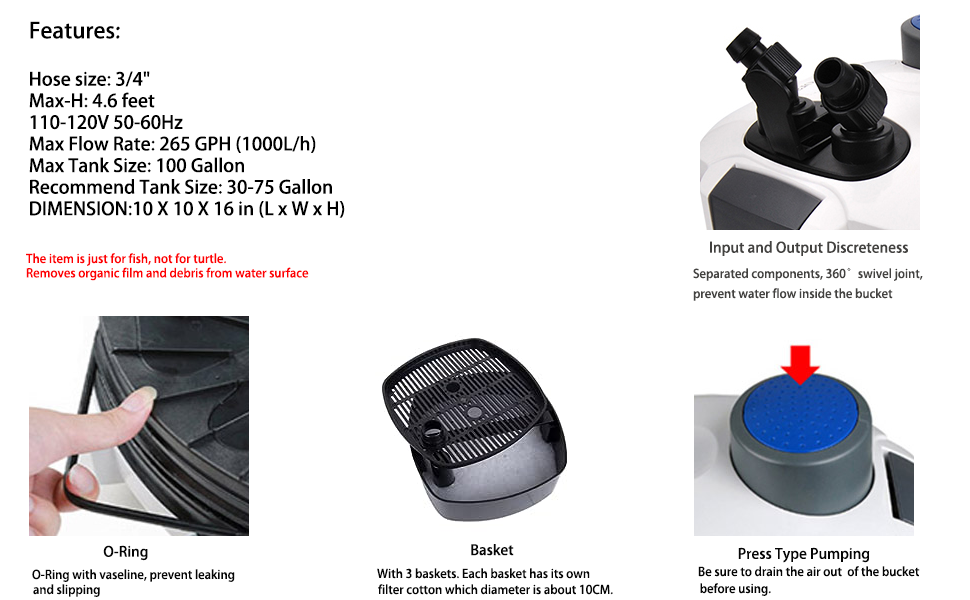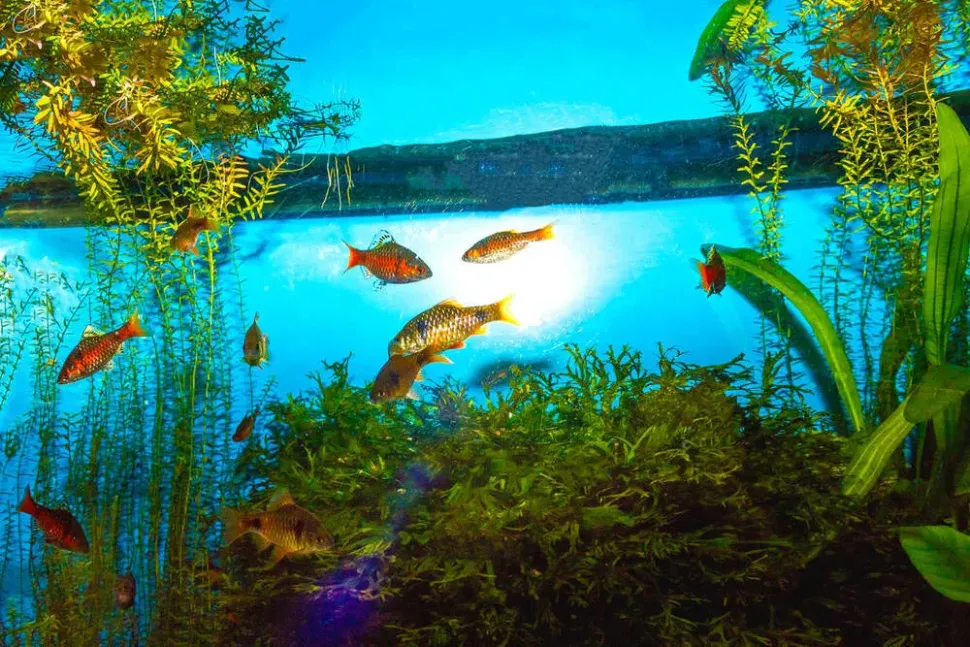 265GPH External Aquarium Filter
(No UV Light!No Free Media!)
(No UV Light!)
Package:
Package:
1x Input and Output Discreteness
1x Input and Output Discreteness
1x Barrel Head
1x Barrel Head
1x Main Canister Body
1x Main Canister Body
2x 5 feet lengths of flexible tubing
1x Draining Tray Cover
1x Draining Tray Cover
3x Draining Filtration Trays
3x Draining Trays
1x Output Curvy Bar
1x Output Curvy Bar
1x Input Curvy Bar
1x Input Curvy Bar
2x Connected Bars
2x Connected Bars
2x Spray Bars
2x Spray Bars
1x Spray Bar Cover
1x Spray Bar Cover
3x Input Bars
3x Input Bars
1x Input Cover
1x Input Cover
4x Strong suction
3x white-fine Cottons pads
3x white-fine Cottons pads
(NO UV LIGHT!!)
(NO LIGHT!!)
1xBlue coarse filter sponge
1x1lb activated carbon in mesh media bag
1x1lb ceramic rings in mesh media bag
1x30 pieces of bio-balls
Noted: You'd better rinse the active carbon with clean water before you put it into the canister, in case there are small black carbon pieces on it because of the collision in transit.
Features:
Features:
3 stages of filtration
Hose size: 3/4"
110-120V 50-60Hz
Max-H: 4.6 feet
Max height: 4.6 feet
110-120V 50-60Hz
Comes with Complete kit
Max Flow Rate: 265 GPH (1000L/h)
10"x10"x16" in Dimensions
Max Tank Size: 100 Gallon
18w Power and 3 prong plug
Recommend Tank Size: 30-75 Gallon
Can adjust to fit larger gallon tanks
DIMENSION:10 X 10 X 16 in (L x W x H)
Maximum flow rate of 265 GPH from built in pump
The item is just for fish, not for turtle.
Recommend for tanks under 75 gallons
Removes organic film and debris from water surface
Questions and Answers:
Missing pieces: We may miss some pieces when packing, please send us an email if any part is missing.

Leaking: Please make sure all pieces are assembled correct, adjust the o-seal ring on the top lid and put the filter lower than your tank, and make sure water can get through the green hoses soomthly.

Loud noise from the motor: You may need to check the impeller on the top lid if there is anything in it, and clean it. And then try it again.

Not pump water: Press the blue button on the top lid to compel the extra air out of the canister. And try it again.

The flow is slow: Add enough water into the tank, and adjust the cotton and medias.